Caltrate PLUS
With extra bone-building nutrients. Contains 800 IU vitamin D, 50mg magnesium and 1.8mg manganese.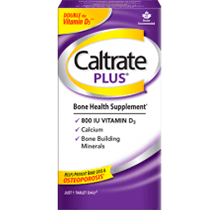 Each Caltrate PLUS tablet contains:
600 mg calcium (calcium carbonate)
800 IU vitamin D (cholecalciferol)
20 mcg vitamin K1
50 mg magnesium (magnesium oxide)
7.5 mg zinc (zinc oxide)
1 mg copper (cupric sulfate)
1.8 mg manganese (manganese sulfate)
Who is this product for?

Adults who require additional vitamins and minerals in a bone health supplement and are seeking more vitamin D.
Adult Dosage
One tablet daily with food or as recommended by a physician. Tablet may be broken in half for convenience. Take a few hours before or after taking other medications.
Caution
Do not exceed the recommended daily dose.
Consult a healthcare practitioner prior to use if you are taking blood thinners.
In case of accidental overdose contact a physician or poison control centre immediately.
Keep out of reach of children.